Transforming ordinary bottles into bespoke pieces
Made with passion and the intention to reduce the waste that forms our landfill, we hope our unique, bespoke pieces bring visual appeal and become treasured features in your life.
Artisan

We take a considered approach to each piece or batch we create. Whether creating one piece or delivering a large order, we maintain the same mentality and ensure all pieces are finished to the highest of standards and integrity.

Waste as the source material

Our mission and our motivation: To reduce the waste that forms our landfill. We have continued not only to reduce bottle waste but have extended our waste upcycling to include cardboard for our custom inhouse designed and made boxes.

Upcycled not recycled

An upcycled product is one which has been crafted by reshaping an item into something that is of higher value than the product it came from. Upcycling often uses less resources than recycling.
Our Collection
Tumblers, Vases & Sprouters that bring luxury to your everyday living collection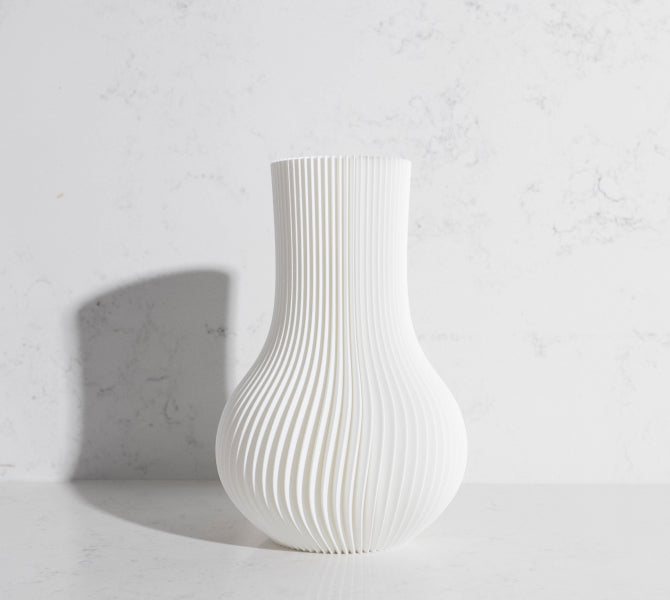 Vases
Each vase incorporates one if now two Upcycled Glassware pieces. Our DUO range consists of a glass base and glass insert allowing for flexibility of single or multiple stem arrangements while our 3D range takes form with a elegant 3D printed sleeve encompassing a removeable glass insert. Both ranges offer not only size and colour options but the change to extend the scope of art within art.
SHOP VASES
Frequently asked questions
Where do you get the bottles from?

We have a wonderful community of restaurants, clubs & local residents who bring their empty bottles to us. 
Do you need to put the sprouter in the sun for the sprouts to grow?

No. Due to energy that is stored in the seed, sunlight is not required to germinate most seeds to sprout stage.
How do I clean my sprouter

Jumbo Tumbler – Dishwasher safe
Sprouter Top & Grid – Handwash only using a course scrubber pad and your standard dishwashing liquid.  Towel or drip dry.
How delicate are the 3D printed vases?

Our 3D printed vases are durable, although there are a few factors we like to highlight.
* Pick up your vase with care.  Use two hands, one hand always under the bottom, and importantly do not lift from the top rim or by squishing the neck of the vase. 
* Do not place near heaters / fires or in direct sunlight.
What are your 3D printed items made from?

We use PLA to 3D print which is primarily made from renewable resources, think cornstarch, tapioca roots, sugarcane and wood pulp.  PLA does not contain the fossil fuel petroleum.
In the spirit of reconciliation, Upcycled Glassware acknowledges the Traditional Custodians of country throughout Australia and their connections to land, sea and community. We pay our respect to their Elders past and present and extend that respect to all Aboriginal and Torres Strait Islander peoples.